Recently I helped my fellow crochet guild member, Jody Witt, build her
website for her crochet designs
. She wished to reciprocate my help, so I asked her if she'd teach me her favorite family gumbo recipe. Jody is from Louisiana, the home of gumbo. She said she'd teach me her maternal grandmother's recipe which uses shrimp, sausage, and chicken.
After my instruction, I was inspired to try my hand at making gumbo. What follows are Jody's instructions and how I adapted them.
The Chicken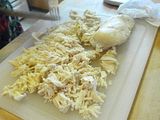 Jody says she uses a pressure cooker to cook her chicken for gumbo. The advantages are the meat can be cooked while frozen solid, it makes the chicken tender, and cooks in just 15-20 minutes. My adaptation: Until I acquire a pressure cooker, I poached defrosted chicken.
The chicken is shredded before being added to the pot of ingredients.
The Sausage
Traditional gumbo uses a smoked andouille sausage, but since andouille sausage in general is a specialty outside of Louisana (or neighboring states), those of us without easy access to it will have to make do with what is available. Fresh andouille sausage will not be cheap, as I discovered at the Whole Foods meat counter. I splurged and got one pound. Any packaged smoked, or highly spicy sausage will work. Whatever you think would taste good, but try to get something with heat, because andouille sausage is all about the spicy heat.
The Roux
A cook's best friend is roux. It's a simple 1:1 ratio of fat and flour used to thicken liquids. The ratio can be altered depending on who is doing the cooking, or the cooking style. In regard to cooking the traditional dishes from Louisiana, the roux is always cooked to achieve a specific color, usually brown to chocolate brown. Jody's recipe has you cook the roux for about 20-30 minutes to make a roux the color of a brown bag. I used some of the rendered fat from the sausage to make the roux. This wasn't a good idea as the red oil made it difficult to see the flour's color change. However, the flavor was outstanding.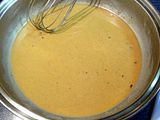 Before and After of Roux
The Vegetables
Most gumbo has bell pepper, which is part of the holy trinity of Cajun/Creole cooking. I'm not able to eat those kind of peppers as I'll repeat them all day. Okra is commonly used, but seems to not be used very much outside of the south. As gumbo originated out of what vegetables were in season, the mix can vary. Typically you'll find onions, celery, bell peppers, okra, tomatoes, and green onions used as a garnish.
The Most Important Ingredient: Filé
When making gumbo, you can adapt to whatever sausage you like or have available, and the vegetable ingredients vary according to what's on hand, or the cook. But you
CANNOT
substitute the filé powder and still call it gumbo. In short, filé is ground sassafras leaves. If your local specialty or grocery store doesn't carry it,
Cajun Grocer
is a good source. And if you have a sassafras tree, you can
try your hand at making your own
. The powder is added at the very last, when the heat is turned off and the gumbo is not boiling. Adding the filé to boiling liquid results in badness, and you don't want to destroy a gumbo when you've made it this far.
Other seasonings will be added, such as the vague "Cajun" or "Creole Seasoning". These are usually spice blends of cayenne pepper with herbs, with or without salt. Hot pepper sauces can be added during the simmering process, or at the table. Parsley can be added for color and flavor.
My First Gumbo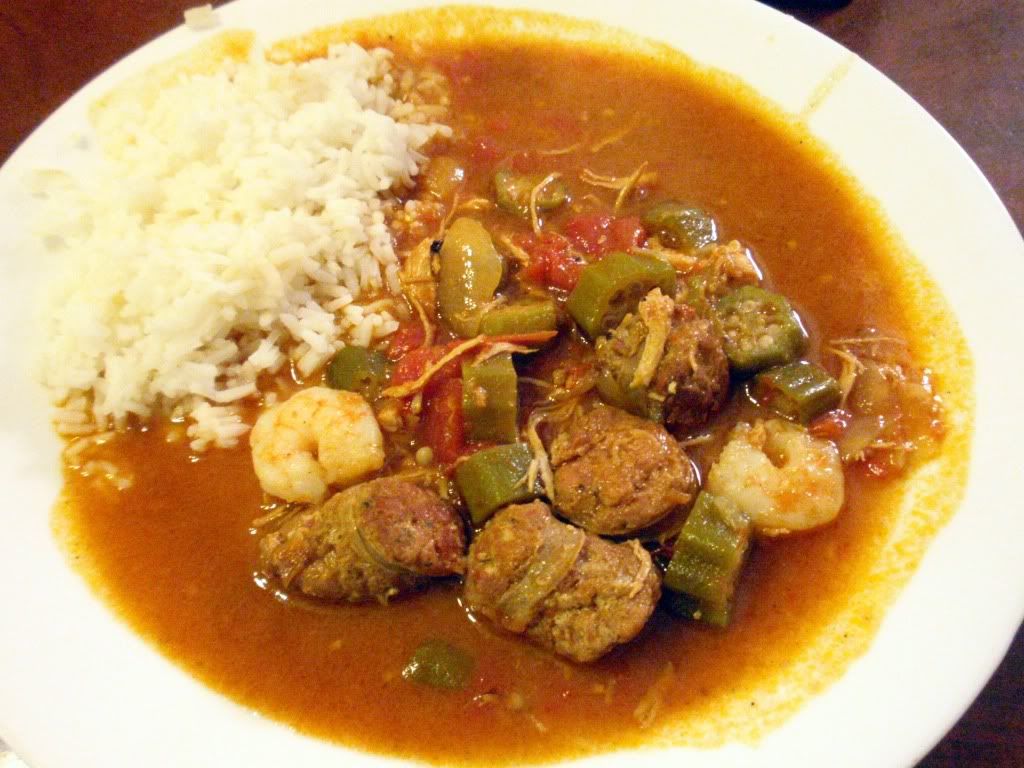 I was so inspired by how excellent the gumbo tasted, that I needed to make some immediately! (And to do so before I forgot everything--even though I took pictures and took extensive notes.)
I had had gumbo before, but wasn't that impressed by it. The sauce was classic dark chocolate, and what I had seemed to lack flavors--all masked by a lot of peppery heat. As I've learned, restaurant versions of classic foods can sometimes not be a good example of a classic home-cooked dish. Gumbo is so varied that it is difficult, if not impossible, to make a standardized version that captures all the dish entails. Thus when I learned that Jody was born and raised with eating gumbo, my intuition told me she'd know how to make an exquisite gumbo.
I made extra sauce, and made it a bit thicker than what Jody had prepared, as I'm all about the sauce. I used half the amounts of the meats because I didn't want to make an enormous batch. My first gumbo might be a little too oily from the sausage fat, but I don't mind the richness it imparts. This version of gumbo is sublime, and I'm very pleased with the combinations of meats and flavors.
My next adventure with gumbo is to invest in some real smoked andouille sausage and see how that cooks up. I found some that is smoked over pecan wood. I bet it will be amazing!
It all begins with...
2 lbs of chicken
2 lbs of sausage (preferably something seasoned like andouille)
2 pounds of shrimp
2 pounds of okra
2 medium onions
3 quarts of chicken broth
1 large can of diced tomatoes
1 large heaping spoonful of tomato paste
1-2 teaspoons of Cajun or Creole seasoning (like Tony Chachere's)
1 teaspoon of filé powder
Minced garlic (use amount according to taste)
Tabasco or hot sauce (use amount according to taste)
For the roux:
¼ cup vegetable oil
½ cup flour
(More roux can be made if you like a thicker sauce
Basic instructions:
Cook chicken and shred. Cube sausage and saute to render out fat. Save some of the reserved fat, but not too much as a greasy gumbo is not good. In a large pot, at least 7 quart size, add some EVOO and add medium-coarsely chopped onions, along with garlic if you are using any. Once the onions are starting to become translucent, add the sausage and gently saute on medium to low until it become aromatic. Add the shredded chicken, 1 quart of broth, diced tomatoes with juice. Add the seasonings you will use, but NOT the filé powder. Set this to simmer, then begin the roux.
Heat the oil in a regular pan,
do not use a non-stick pan
--preferably a cast iron skillet, but a stainless steel will do. Add the flour and whisk consistently over a medium to medium-low heat. If you burn or scorch the roux, you'll have to start over. The roux will take at least 20-30 minutes to become the color of a brown paper bag. Lower or remove the roux from heat when it is done; whisk in the heaping spoonful of tomato paste. Once the paste is incorporated, slowly pour in 1 quart of chicken broth, furiously whisking to make sure no lumps form. Return the skillet to medium heat to bring it to a boil. Once it has boiled, pour it into the larger pot with everything else.
Add the okra after about an hour of simmering. Add more broth if necessary, using the full quart if desired. Simmer either covered or uncovered on low, but make sure not to reduce the sauce too much. The shortest amount of time simmering would be an additional hour after the first hour of simmering, for a total of 2 hours, but it should simmering about 3-4 hours.
About 30 minutes before serving, prepare the shrimp. Make sure the gumbo is nice and bubbly, then turn off the heat. Add the shrimp and filé powder when the gumbo just stops bubbling. Cover the pot and allow it to rest about 15-20 minutes. Serve over rice. Leftovers are good to eat for up to 3-4 days.